we require reading through the following materials so as to gain an understanding of BRO's policies and requirements

**AVAILABLE DOGS ARE AT THE BOTTOM OF THIS PAGE**
Adding one of these sprightly characters to your family will bring you laughter and the best kind of companionship marked by loyalty, devotion and play.
But sometimes life situations dictate that a dog needs to be surrendered. The volunteers at Boxer Rescue Ontario know how difficult it is to make a decision to surrender your dog and we commit that we will take all available measures to facilitate a new loving home for your boxer where he will be happy, healthy and safe !
Please complete a Surrender Contact Form as complete as possible and/or to the best of your knowledge and be sure this is what you wish to do before filling out the surrender form as cancellations take us away from the other dogs in need – if you have a family member willing to take your dog please check before we arrange the intake. A volunteer from our intake department will get back to you as soon as possible to go over the details.
Rescue boxers make wonderful additions to a home, but they require work and commitment. Please do not apply unless you are ready as we do not hold our dogs and will place them in the first available "best match" home.
Please read the requirements before completing an application form.
---
Before Completing an Application, please ensure:
Minimum age to apply is 21 years of age
Children in the home are 5+ in age
You have researched the boxer breed
You are able to provide your vet contact and information
You are willing to fill out an application, have a phone interview and complete a home visit
You are financially able to care for a boxer for it's entire life
You are willing to have a trainer come into your home if your new boxer has behavioural issues you are unable to resolve
You will ensure your adopted boxer is going to be an indoor companion
Your present animals are spayed or neutered
---
Every dog adopted will:
be current on vaccinations
be spayed or neutered unless there is a medical reason we cannot and a vet certificate will be provided.
be microchipped
have received a general exam by a vet
be heartworm tested during the season
have had a revolution treatment for fleas on admission
---
Steps at a glance:
Complete an adopt/foster/foster to adopt application – you can complete it online or download and print. Once you submit your application, our volunteers will review it and you may be contacted to set up a phone interview, provided you meet the criteria for the dog(s) you have applied for.
Phone interview – If your online application meets Boxer Rescue Ontario's criteria you will be contacted by one of our volunteers to set up a phone interview. The interview usually takes about 30 minutes and allows us to confirm the details of your application. It also gives us a better idea of what your family and home are like so that we can assess whether the boxer you applied for is a fit. If the boxer is not suitable for your home, and you have asked to keep your application on file, we are in a better position to find a match that would be right for your home. Please, due to the demands on our volunteers time, we are not able to contact all of our approved applicants and provide status updates.
Matched with a dog – Successful applicants are matched with a dog. We typically have a large number of applicants interested, but our primary concern is finding the perfect fit for our foster dogs; we do not operate on first come first serve basis. Please be patient through this process.
Home visit – After the phone interview and if your application is chosen for one of our dogs a volunteer will contact you to set up a home visit at a suitable time when all members of your household can be present. You will not be permitted to meet one of our foster dogs until the home visit has been successfully completed.
You add a new member to your family – Once we have approved the adoption, it is time for the "meet and greet". This is the opportunity for your family including any dogs you have, to meet our rescue boxer. If all goes well you proceed with the adoption contract and an adoption fee and taking your rescue boxer home that day.
---
Adoption fees (not applicable for fostering)
0 to 6 months puppies $650.00. Puppies at this age cannot have their vetting completed before adoption and the adopters of puppies are contractually obligated to complete their vetting i.e. finishing any vaccinations and spay/neuter.
7 months up to 2 years – $600.00 fully vetted
2 years up to 6 years – $550.00 fully vetted
7 and older – $300.00 fully vetted
Since we are a volunteer organization funded entirely by contributions, we count on your continuing support as well as your adoption fees to help defray costs of caring for our foster dogs. We would happily accept any amount over and above these minimum fees in order to help other dogs in our care.
After you adopt we will follow up with your during your initial adjustment period. Remember that we are always available to answer questions and provide help when possible. Please be patient with your newest family member. As big as an adjustment that your family is experiencing it is tenfold for your new boxer. Give them a chance to adopt to their new environment and to become the family member they want to be.
Letter From Your New Dog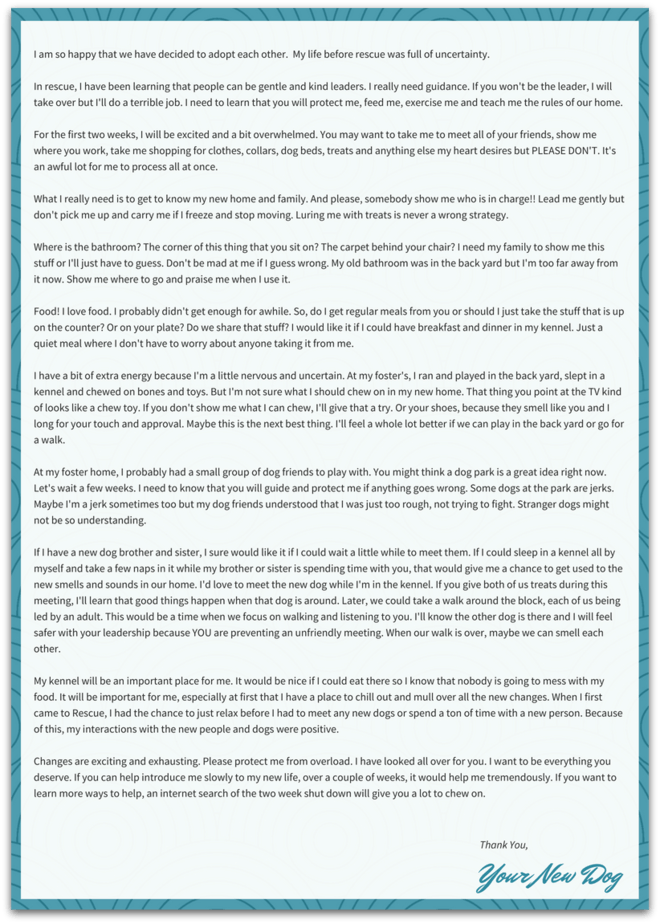 (translated by Shannon Tarr @Emotional Rescue)
---
Currently Available at Boxer Rescue Ontario